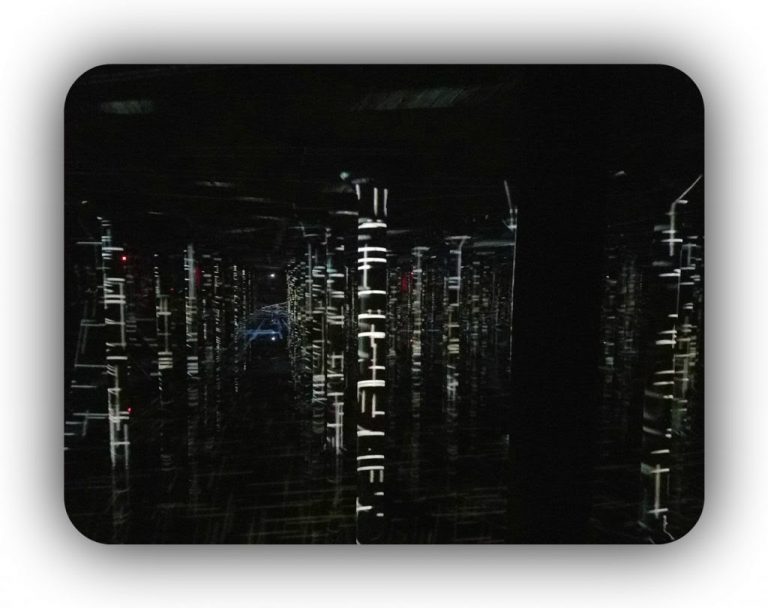 Pitch black, silent. This is where you start. Imagine that feeling in a space inside the busy, loud, moving, downtown Houston. That's how your experience begins at the "Rain" exhibit at the Buffalo Bayou Cistern.
This past weekend, I had the honor of being invited to celebrate the birthday of two close friends at the exhibit. I had no idea what I was getting into, but boy am I lucky to have experienced it.
The cistern itself was built in 1927 to serve as an underground reservoir for drinking water. Apparently, it provided decades of service until it sprung a leak that could not be identified or contained. This 87,500 sq. foot expanse went unused for years, until 2010 when park designers realized the potential that it had to become a usable space. The space in itself before the living exhibit began was somewhat moving.
This year, Buffalo Bayou Parternship teamed with MFAH to produce "Rain: Magdalena Fernandez" a light and sound exhibit within the cistern. This abstract video projection is immersive.
At the entrance of the cistern, we gather where instructions are given.
Mainly, it will have moments of pitch black and you must be silent. Someone asking you to be silent usually seems intrusive, but in this case, it is freeing. It gives you permission to forget about the busy, technology influenced life that we lead. You are also told that all of the sounds you will hear, though they sound like an emerging rain storm, are magically created by the Slovenian choir, Perpetuum Jazzile. The sounds are all created by their snapping fingers, slapping palms against legs, and stamping their heels on wooden surfaces. The description does not give it justice.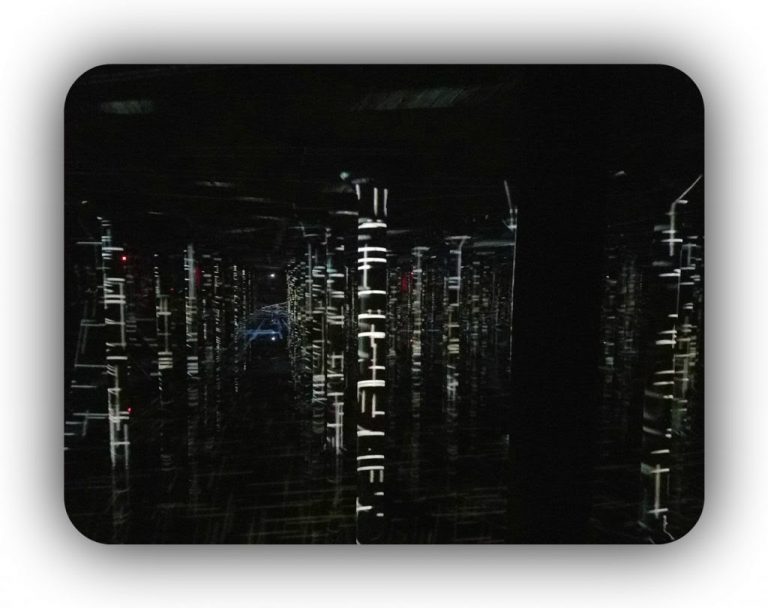 We go deeper into the cistern. The lights go out. You are enveloped in darkness and silence. We stand in awe as we start to see and hear the pitter patter of rain. First, it comes softly and slowly like the echoey drips of the faucet when you turn off the bath. Then, gradually and suddenly you are inside a rain storm. Thunder, lightning, the works, all created by sound and light projecting, moving, and bouncing across the floors and columns of the cistern. We make our way around the cistern, starting as the rain quiets and stopping as it begins again, until we have gone full circle, back to the entrance.
To say I enjoyed it is an understatement. If you let it, it can transport you into the rainstorm. You can feel all alone in in the tour full of people, in the city full of people around you. Somehow, it is both tranquil and exciting all at the same time. Do not take just my word for it, this really is a must see exhibit. It will be open till June 4, 2017. You do need to buy tickets ahead of time, it is $10 per person ($8 for seniors, students, and youth). You can find complete scheduling and tickets at buffalobayou.org.
Thanks for reading,
Melody Brown