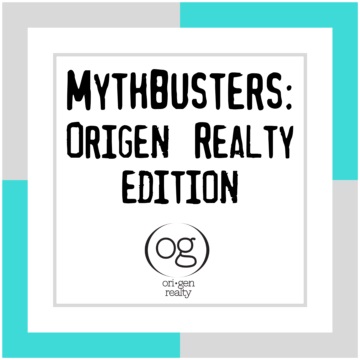 Anytime a company breaks the mold and disrupts a process that hasn't changed in decades, you can expect at least a few critics and skeptics. Enter Myth Busters OG Edition!
The undeniable truth that a lot of agents won't address is that technology in recent years has immeasurably lightened the load of a real estate agent's tasks. Advancements in technology and consumer services have made it possible for consumers to access information about listings that agents were once the exclusive gate-keepers of (think Zillow, HAR, Trulia, and hundreds of other websites). The technology available today has reduced the time and cost of an agent's role immensely, but those savings are not typically passed on to the consumers.
Even the Antitrust Division at the U.S. Department of Justice has commented on the real estate industry by reporting "In other areas of the economy, the Internet has dramatically altered the competitive landscape by driving down costs and enabling innovative and more efficient ways of conducting business. Traditional middlemen — such as travel agents and stockbrokers — face more intense competition that has propelled them to change, bringing consumers significant benefits. The real estate brokerage industry has been slower to change, with the result that consumers are paying higher commissions and fees than they would under a more competitive system."
With all of the technology and information that is available to consumers and agents, we know that our value comes from being able to offer expertise and knowledge that guide our clients through a process that they are unfamiliar with. That's why we've created a listing commission structure that's fair to the consumer and to our agents. We've landed at a price point that allows us to market our listings, pay our agents well, and elevate our clients' experience while saving them thousands of dollars of their own equity. Let's break down some myths about Origen Realty!
Myth: Origen Realty is a discount brokerage, and "you get what you pay for".
Fact: Just because we offer a cost savings does not mean that we skimp on service. Origen Realty provides everything that a typical traditional real estate brokerage does and more. Our listings include professional photography, a robust marketing campaign, weekly market updates, and individualized service from highly-trained agents. Origen agents are included in a daily training and coaching program and are among the most knowledgable agents you'll find. Read our 5-star reviews on Google and Facebook to see just how delighted Origen clients are with the service we've provided.
Myth: Homes listed with a flat fee program will not sell for as much or as quickly as if you were to pay a 6% commission.
Fact: Origen Realty provides every seller client with a Comparative Market Analysis and uses said analysis to determine market value. Obviously, sellers typically choose to list for a price that is at least market value. An analysis of all homes that Origen Realty has sold utilizing our seller savings program in the previous two years shows that our listings have sold for an average of 97.24% of list price, while the average for homes in the Greater Houston area during the same period sold for an average of only 95.13% of list price. The myth that utilizing Origen's flat fee commission will result in a lower sales price is proven FALSE.
The average days on the market for all homes that Origen Realty sold utilizing our seller savings program in the previous two years is 37 days while the average for homes sold in the Greater Houston area during the same period was 58.28 days. The myth that utilizing Origen's flat fee commission will result in taking longer to sell your home is FALSE.
We've helped our clients sell their homes more quickly, for higher prices, AND have saved our sellers and average of almost $6,700 in each transaction.
Myth: Agents who sell homes for a flat fee must not value their profession. It's not possible to sell homes for $3,000 and earn a good living.
Fact: At Origen Realty we absolutely value our profession as real estate agents. We believe that the necessity for real estate agents will never be diminished. The reason that we offer a cost savings option is because we value the clients wants and needs above anything else. The landscape of the real estate industry is changing, and we choose to be among the pioneers of that change. In a modern world where you can order an Uber with a touch of a button and have Amazon orders delivered to your door by a drone, it's inevitable that the real estate industry will at some point have to catch up with the times and offer a unique value proposition. Billions of dollars of venture capital have been poured into new real estate companies that will purchase your home from you, or help you purchase a new home in only a matter of days. We're not threatened by these new companies, but excited about the new possibilities that are being opened up in this industry.
Our small company of just seven agents has managed to save our clients almost $400,000 in commissions, and we've had agents earn six figures while doing so. Our reputation for great service and trusted agents brings new referral business everyday. It's proven to be a win-win for everyone! The proof is in the pudding.