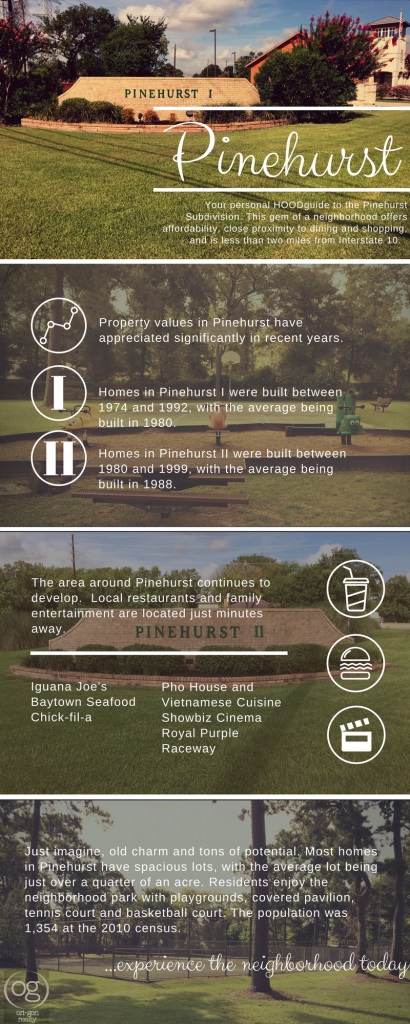 Pinehurst is an established neighborhood of approximately 700 single-family homes located in Baytown, Texas and in Chambers County, directly off of Highway 146. Pinehurst includes two sections, Pinehurst I and Pinehurst II. This gem of a neighborhood offers affordability, close proximity to dining and shopping, and is less than two miles from Interstate 10. You'll find that many of these homes have old charm with lots of potential. Most homes in Pinehurst have spacious lots, with the average lot being just over a quarter of an acre. Residents enjoy the neighborhood park with playgrounds, covered pavilion, tennis court and basketball court. The population was 1,354 at the 2010 census.
Values
Property values in Pinehurst have appreciated significantly in recent years. The average property value rose from $119,020 in June of 2014 to $146,390 in June of 2017, which is a 22% appreciation.
Pinehurst I
Homes in Pinehurst I were built between 1974 and 1992, with the average being built in 1980. Homes range in size from 1,348 square feet to 2,288 square feet, with the average being 1,750 square feet.
Pinehurst II
Homes in Pinehurst II were built between 1980 and 1999, with the average being built in 1988. Homes range in size from 1,332 square feet to 2,731 square feet, with the average being 1,832 square feet.
NEIGHBORHOOD LINKS
Homeowner's Association – JDH Association
HOA DOCUMENTS
NEARBY RESTAURANTS & ENTERTAINMENT
Iguana Joes – 9118 TX-146
Baytown Seafood – 8835 TX-146
Pho House and Vietnamese Cuisine – 10424 I-10
Chick-fil-a – 8738 N Highway 146
Showbiz Cinemas – 10550 Interstate 10 Service Road
Royal Purple Raceway – 2525 FM 565
Thanks so much for allowing us the opportunity to share information with you about our local community. Stay tuned for our next issue of HOODguide to learn more.
–Cassie Nichols, Origen Realty
Co-Founder/Director of Agent Support/Agent