WHAT TO DO WITH YOUR HOME WHEN YOU'RE BUYING A NEW ONE?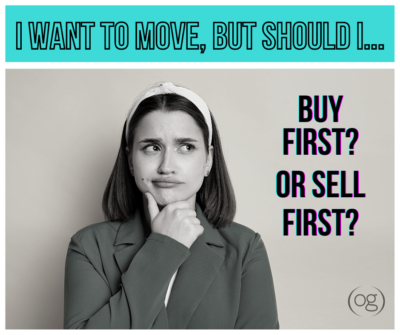 If you own a home and want to purchase a new one, choosing the best strategy can be tricky. What should you do with your current home when you're buying a new one? You have lots of options! Here's a guide to help you decide.
OPTION ONE: Buy and move into your new home. Then Sell the old home.
This might be the easiest option, but also the most expensive. Buying your new home first can be convenient because you'll only have to move once and you have the freedom to close, move, and list your old home on your own schedule.
Keep in mind though, that if you haven't sold the old house yet, you won't have the funds from that sale to use as down payment for the new house. If financing is involved, the lender will want to make sure that your income is high enough to cover the cost of both homes until the first one sells. You'll also need to make double mortgage payments, pay double utility bills, etc. until the first home sells.
🌟
🌟
🌟
OPTION TWO: Buy and Sell at the same time. Make your purchase contingent on selling the old home.
This is the most common way that buyers purchase a home when they need to sell their current one, called a contingency. You can make an offer to purchase a home that is contingent on selling your current home first. That means that you're only obligated to go through with the purchase IF your current home sells.
This is a great option to provide peace of mind if you're worried that your home won't sell quickly or for as much as you'd like. A contingency also protects your earnest money. If you follow all the terms of your contingency agreement, you can get a refund of your earnest money if your home doesn't sell. Align the closing dates of your sale and purchase just right, and you'll only have to move once! You can also use the proceeds from your sale to put down on your new home. Check out EVERYTHING YOU NEED TO KNOW ABOUT A CONTINGENCY to learn more.
OPTION THREE: Sell your home. Move somewhere temporary, and then buy.
It might be tricky to find a temporary housing situation, but if you want the most flexible timeline and need to sell your home first, this could be a great option for you. You could sell your home first without the pressure of feeling rushed to sell, or rushed to pick out your new home. Temporary housing solutions could include a short-term apartment or home rental, staying with family and friends, or renting an Airbnb. Then you'd have time to search for your perfect home and have the funds in hand when you're ready to buy.
OPTION FOUR: Lease out your old home.
If you don't need the cash from your home to purchase a new one, it might be wise to use your old home as a rental property. You'll want to make sure that it's a good financial decision. Have one of our agents run a Comparative Market Analysis on rentals in your area to find out how much you might rent it for. We can help you run the numbers to determine if it's a good return on investment. If the rental market supports a high capitalization rate, you could use the rental income to increase your monthly income long term rather than selling for a short-term gain. Here is a great calculator that you can use to run rough numbers to see if leasing could benefit you: Rent VS. Sell Calculator. 
OPTION FIVE: Use creative financing that allows you to buy before you sell.
There are several lenders who offer creative solutions so that you can buy before selling. Some of these lenders will finance the purchase of your new home before selling your old one, and without you having to pay two mortgages. Many of them we'll cover the mortgage payments of the first house until it sells. Others will provide a bridge loan to pay the down payment on the new house while you're waiting for the first home to sell.
Of course, these amounts all have to be repaid upon closing, with fees attached. But it can make the process of buying and moving before selling very convenient.
HIRE A PROFESSIONAL TO HELP YOU NAVIGATE ALL OF THIS
☝️
☝️
☝️
The logistics and timing of buying and selling at the same time can seem overwhelming. But keep in mind that this process is not uncommon. The majority of buyers (according to NAR®*) are in this exact same situation. We help clients navigate this complex process every day to make sure the stars align.
If you're interested in exploring the options of what can you do with your current home when buying a new one, give us a call at (281)691-6177 or send an email to [email protected]. We're always available for a free consultation to help you explore your options.
*BONUS: SAVE ON YOUR LISTING
We'll list your existing home for sale and save you thousands of dollars in commission with our full service, flat fee pricing model. See SELLER SAVINGS to learn more.