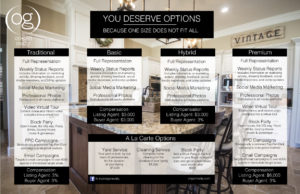 A year ago, Origen Realty took a major leap forward in serving you by unveiling our flat fee/full service listing option. While most flat fee agencies discount their rates and offer less in the way of service, at the OG we chose to offer you more. Video drone tours and block parties were just some of the services we added in our flat fee that, in many cases, are still above and beyond what even the more traditional brokerages offer with their 6% commission-based model.
Through the course of the year, we continued to innovate. We experimented with options to try to bring you the most value for your investment. We watched as our listings sold faster than the competition while saving you thousands of dollars. And most of all, we listened.
We listened to our industry partners who wanted to know how they could help us continue to innovate and spread the word. We listened to our competitors who wondered what this might mean for them. And most of all, we listened to you, our clients and friends, who wanted more options.
So, welcome to 2019 and our new improved OG Pricing Structure. We know that one size doesn't fit all and that no two sellers are trying to achieve the exact same thing. The time spent building your equity, the sales price of your home, and your unique situation all impact your main goal. Our job is to come alongside you and help you achieve your goals – not to force you to conform to some imagined "standard".
Download a full-sized copy of our pricing menu and share it with the world! We look forward to continuing to serve you even better in 2019 and we appreciate your voice and your loyalty.
Happy New Year.
-The OG